Life Science Analytics Market Poised to Hit $47.5 Billion by 2027 | MarketsandMarkets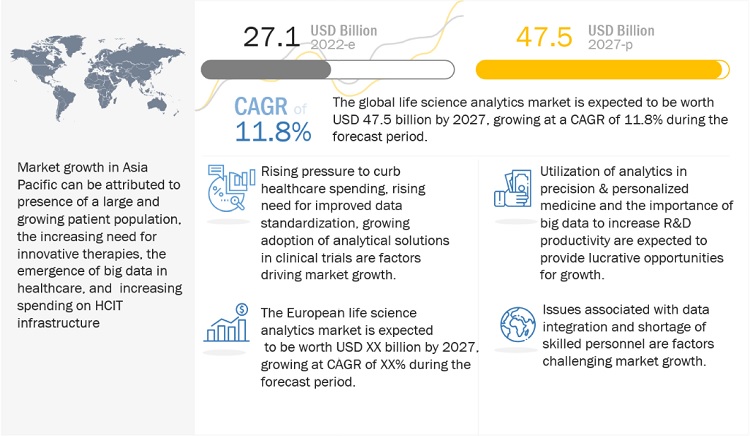 In November 2022, IQVIA (US) collaborated with Clalit (Israel) to launch the first Prime Site in the country. The collaboration will allow focus on the future of innovation, including precision medicine and the delivery of data-driven trials.
Life Science Analytics Market in terms of revenue was estimated to be worth $27.1 billion in 2022 and is poised to reach $47.5 billion by 2027, growing at a CAGR of 11.8% from 2022 to 2027 according to a new report by MarketsandMarkets™
Life Sciences Analytics Market is expected to witness substantial growth, with a projected value of USD 47.5 billion by 2027, compared to its worth of USD 27.1 billion in 2022. This indicates a compound annual growth rate (CAGR) of 11.8% for the market.
Life Sciences Analytics is a specialized field that involves the application of data analysis, statistical methods, and advanced technologies to gain insights, solve complex problems, and make data-driven decisions in the life sciences industry. It encompasses a wide range of applications, including pharmaceuticals, biotechnology, healthcare, genomics, clinical research, medical devices, and more.
Get the Sample Pages of Report for More Understanding @ https://www.marketsandmarkets.com/requestsampleNew.asp?id=174990653
The growth of Life Sciences Analytics can be attributed to several key factors that have shaped the industry and continue to drive its expansion. Some of the major growth factors include:
Increasing Volume of Healthcare Data: The rapid digitization of healthcare records, coupled with the adoption of electronic health records (EHRs), wearable devices, and other digital health technologies, has led to an exponential increase in healthcare data.
Demand for Personalized Medicine: The shift towards personalized medicine, which tailors medical treatments and therapies to individual patients based on their genetic makeup, lifestyle, and other factors, has created a significant need for advanced analytics in the life sciences industry.
Advancements in Technology: The continuous advancements in data analytics, machine learning, artificial intelligence, and data visualization tools have revolutionized the way life sciences data is analyzed and interpreted.
Drug Discovery and Development: Life Sciences Analytics has become instrumental in accelerating drug discovery and development processes. By analyzing biological data, chemical structures, and clinical trial results, researchers can identify potential drug candidates, predict drug interactions, and optimize trial designs.
Real-World Evidence (RWE): The focus on real-world evidence in healthcare and pharmaceutical research has grown significantly. Life Sciences Analytics allows researchers to analyze data from real-world patient populations, helping in post-marketing surveillance, comparative effectiveness studies, and safety evaluations.
Regulatory Compliance and Pharmacovigilance: The life sciences industry faces strict regulatory requirements for drug safety and surveillance. Analytics helps companies monitor and report adverse drug events, ensure compliance with regulations, and improve pharmacovigilance practices.
Healthcare Cost Containment: The rising healthcare costs have prompted the industry to adopt more cost-effective and efficient approaches. Life Sciences Analytics assists in identifying cost-saving opportunities, optimizing supply chain management, and streamlining healthcare operations.
Collaboration and Partnerships: Increasing collaboration between life sciences companies, research institutions, and technology firms has led to the sharing of data and expertise. Life Sciences Analytics facilitates collaboration, allowing organizations to combine their resources and expertise to address complex challenges.
Focus on Patient Outcomes: There is a growing emphasis on improving patient outcomes and healthcare quality. Life Sciences Analytics helps measure and analyze patient outcomes, treatment efficacy, and overall healthcare performance, leading to better patient care and improved health outcomes.
Global Health Challenges: Events like the COVID-19 pandemic have highlighted the critical role of analytics in responding to global health challenges. Analytics has been used for epidemiological modeling, vaccine development, and healthcare resource allocation during such crises.
Access Complete Report @ https://www.marketsandmarkets.com/Market-Reports/pharmaceutical-life-science-analytic-market-174990653.html
Regional Snapshots
North America:
North America, particularly the United States, dominated the Life Sciences Analytics Market due to its strong presence of pharmaceutical companies, biotech firms, research institutions, and advanced healthcare infrastructure.
Europe:
Europe is a significant player in the Life Sciences Analytics Market, with countries like the United Kingdom, Germany, and France leading in research and development activities.
Asia-Pacific:
The Asia-Pacific region emerged as a rapidly growing market for Life Sciences Analytics, driven by factors such as a large population base, increasing healthcare expenditure, and rising adoption of digital health technologies.
Latin America:
Latin America showed promising growth in the Life Sciences Analytics Market, fueled by a growing awareness of data-driven decision-making and efforts to modernize healthcare infrastructure.
Middle East and Africa:
The Middle East and Africa regions exhibited a growing interest in Life Sciences Analytics, with increasing healthcare investments and adoption of digital health solutions.
Oceania:
Australia and New Zealand had a well-established Life Sciences Analytics Market, driven by a strong research ecosystem, investments in advanced technologies, and a focus on improving healthcare outcomes.
Key Players & Strategies
The life science analytics market is highly diversified and competitive, with many players, including mid-tier and start-up firms. Prominent players in this market include Oracle (US), IBM (US), SAS Institute Inc. (US), Accenture (Ireland), IQVIA Inc (US), Cognizant (US), Wipro (India), Allscripts Healthcare, LLC (US), Optum, Inc. (US), Microsoft (US), MaxisIT (US), ExlService Holdings, Inc. (US), Cerner Corporation (US), Cotiviti, Inc. (US), Inovalon (US), CitiusTech Inc (US), Saama Technologies, LLC. (US), Axtria (US), Clarivate (UK), ThoughtSphere (US), ThoughtSpot Inc. (US), Alteryx, Inc. (US), Sisense Inc. (US), Amazon Web Services, Inc., and Veeva Systems (US).
ORACLE (US) With its broad customer base (over 430,000 customers) and geographic presence (in over 175 countries), Oracle is a key player in a range of IT software, hardware, and service-related markets, including the life science analytics market.
IBM (US) IBM is one of the leading players in the life science analytics market. The company's strong position in the market can be attributed to its brand recognition and extensive product offerings.
Get 10% Free Customization on this Report: https://www.marketsandmarkets.com/requestCustomizationNew.asp?id=174990653
Media Contact
Company Name: MarketsandMarkets™ Research Private Ltd.
Contact Person: Mr. Aashish Mehra
Email: Send Email
Phone: 18886006441
Address:630 Dundee Road Suite 430
City: Northbrook
State: IL 60062
Country: United States
Website: https://www.marketsandmarkets.com/Market-Reports/pharmaceutical-life-science-analytic-market-174990653.html